How to Promote Your Fiverr Gig
If you are a freelancer with services to sell on Fiverr, it is important that you know how to promote your Fiverr gig.
This is because as a freelancer, you are basically running a business, and to make money just like in every business, you need to advertise yourself just like any other business.
Positioning yourself as a brand will definitely differentiate you from your competition.
Here are some tried-and-true techniques for advertising yourself as a Fiverr freelancer so that you may acquire more clients and earn more money.
This guide by Danielshustle will show you how to promote your Fiverr gig and your product on a shoestring budget.
In truth, you will not be spending any money; nonetheless, you will need to brainstorm, spend time, and effort.
Rather than focusing on how to enhance your gig, it's always a good idea to learn about your product and where it fits in the market.
Within Fiverr's market: Take a look at your rivals' websites to see how they offer their items and who they target.
You will see, particularly on Fiverr, that most sellers did not put much consideration into their service and instead simply established a gig, set a low price and target a large audience.
Only a few sellers are genuinely "successful" in each area on Fiverr.
These sellers are frequently rewarded by Fiverr, and it will be difficult for you, as a new or inexperienced seller, to immediately outrank your greatest rival.
We need to come up with a new strategy. We've arrived at the first point of this guide.
1. Identifying your niche and target audience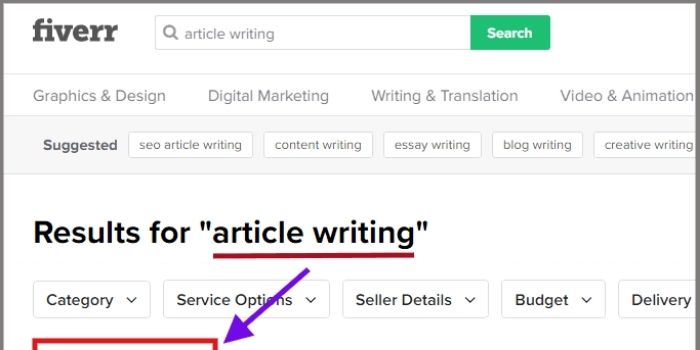 I picked the field of graphic design for this example, and you will probably agree that it is a very competitive and difficult niche that is oversaturated on Fiverr.
When you consider your target market (as a designer), you may believe that any company maybe your client.
Wouldn't it be great to start a business with billions of customers? Nope. Don't go on that boat; it'll most certainly sink before your first order arrives.
To be effective with my technique, you should limit your niche as much as possible.
So, for the first stage of how to promote your Fiverr gig, we brainstorm and try to narrow down our target group, perhaps going from "all businesses" to "start-ups and new enterprises," and you'll notice that while we've narrowed down our audience, it's still too big.
We could use technologies to narrow it down even further right now, but I promised no investment, right? So, let's go to Google and type in "new businesses," as well as see what Google advises as you type.
You'll want to learn all you can about your market, with an emphasis on issues and solutions.
If you're not a designer, use this as an example, but basically, narrow down your niche's target audience as much as possible. But let's return to our scenario.
So, what are the challenges that a new firm faces, and what does it require to succeed?
I just conducted some studies and discovered that, in our case, the value of a company's branding is frequently overlooked.
What's more, guess what? At the very least, as graphic designers, we can contribute to the answer.
If you do your homework, you'll come up with a term that will help you narrow down your target market, and for our purposes, I think "corporate identity" is a good fit.
We return to Fiverr and search for "corporate identity," where we will find a few successful sellers who, fortunately for us, do not work for $5.00.
You want to be competitive but not underpriced, and my personal experience shows that whenever I increased my cost on Fiverr, I typically saw an increase in my rating.
I don't work on Fiverr very often, but when I do, I charge hundreds of dollars every composed minute, and despite the fact that this is extremely overpriced here, my rating has risen.
But let's go back to the topic of this article and our example scenario.
Corporate identity and branding as a new business appear to be a good niche, however wide, for the time being. Let's go ahead and move on to:
2. We're going down the rabbit hole / Intensive Research
If you conducted your research correctly, you should now be able to identify your target market inside a restricted niche.
Now is the time to put everything you've learned into practice, but don't start planning your job just yet.
Make a profile image for Fiverr, Twitter, Facebook, and Instagram (don't forget to design the banners for Facebook and Twitter) since you're a designer (if you can't create designs at all, outsource this step).
By the way, you don't have to have a profile on every social networking platform; I only use Facebook and Instagram and it's great for me.
However, whatever social media platform you choose, you want your profiles to appear as professional as possible, and you should avoid adding spam text like "cheapest freelancer," "fastest service," or anything else that could imply a low-quality service.
Don't forget that you need to build trust and authority; you don't want to be known as the "cheap guy" for last-minute work.
Make it elegant and unique, and then post some material to each site that highlights your abilities.
Only use your finest samples, and if you don't have enough, make some new ones simply to put on your profiles.
It will be worthwhile, and if you follow my steps below, a large number of people will notice and interact with your social media.
Once you've set up your social media pages, attempt to obtain a few likes, follows, subs, and tweets, or in other words, get some love, which is actually very simple.
Simply connect with active accounts, like their posts, leave a remark – DON'T SPAM – and you will discover that they will reciprocate your affection in most situations if your social media is professional.
You don't require a large number of encounters. Don't waste time looking for likes and comments because you only need a handful to get started.
Now it's time to search social media sites for your narrowed-down audience, focusing exclusively on small to medium-sized groups/profiles with an active following (in our example, we're looking for groups regarding corporate identity, company start-ups, and groups for "new business owners").
Take a look at their comments. Do they get genuine engagements on a regular basis, or does it appear to be a phoney profile or group?
In total, you should contact 15-20 reputable group/profile owners and simply explain to them that you are a professional that wants to help and give a solution to the group/following.
Don't outright beg for assistance, and don't  provides any links or anything that suggests you're looking to sell.
Tell the owner what you do and ask for his or her perspective on what would be most beneficial to the organization.
Make him/her proud of being the owner of that group, and offer him/her the opportunity to feel good about himself/herself by standing up and demonstrating his/her knowledge of his/her group. What occurs next will astound you.
Prepare to read a lot, but most importantly, take each response carefully; they are typically the most knowledgeable about "their" area. Consider how you may present your offer as a "package" while taking into account their feedback.
If you miss this stage, you'll most likely end up offering a cliched service and increase your chances of failing to correctly target the niche completely.
Take your time and complete this task. Once you've gathered enough information, go to the next step:
3. Create a gig that is PERFECT for your niche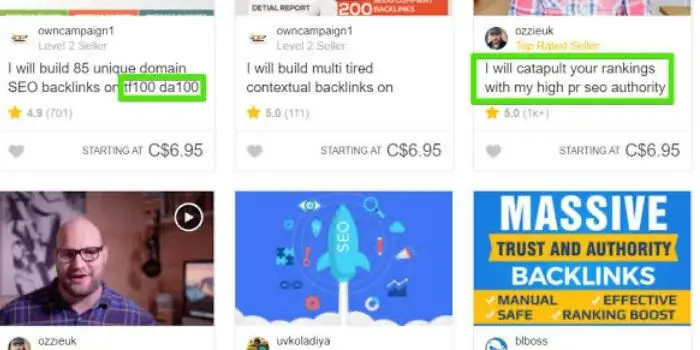 That was a lot of work, huh? I know there's a lot to take in when researching and reading the replies from the owners, and you've probably already put in a lot of time, but hang in there, we're nearly there.
It's time to start brainstorming. Take all the information you've gotten so far and create your gig with it.
Your gig should be specifically tailored to your niche if you want to create trust and authority.
I'm horrible at videos, but if you can make one prove that you understand your area and can give a solution and also to represent that you know your business, it will assist your job.
It should go without saying that your Fiverr title, description, and tags all match.
4. Promotion
So here we are, having conducted considerable research, established a social media presence, solicited feedback from owners, and tailored our job accordingly.
Marketing is extremely important and can make or ruin your company.
Don't start paying for advertisements just yet; you'll need to build up a significant following and authority first.
Return to the owners, thank them for their assistance, and gently request that they review your gig.
If you have a really focused concert, maybe a video, and performed a good job, chances are they will post about you.
Some will want promotional costs; it is up to you to determine how much you are prepared to pay, but in my experience, you can always request a trial run to see how the group or following would react to your service.
It's worth noting that the size of the group doesn't always matter because it's more about group involvement.
When compared to a 50k group that was barely reacting at all, I got a lot more conversions with a very active 10k group.
So, you basically utilize them as influencers, and it's quite possible that they convert far better than sponsored advertisements.
Especially if you've cut down your target group and offered customized answers.
Rinse and repeat, starting over with your market research, focusing on a different element of your niche, contacting more influencers, becoming a member of their group, and providing value – this is a time-consuming but worthwhile process.
5. Advanced Marketing Techniques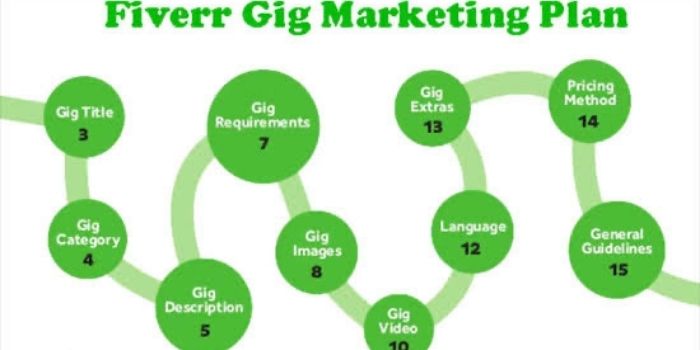 So far, everything has been done manually. If you're willing to put some money into your business, automating your social media profiles is a great place to start.
There are several tools available that are extremely effective. They are inexpensive, and they will automatically like, comment, and follow individuals in your field, resulting in a gradual increase in your social media profile.
As an automated task, never add any link, spammy information, or anything questionable.
You want people to think highly of you and check up your profile to locate your link.
You may look at sponsored advertisements if you've built up a decent following, but keep in mind that you're effectively purchasing data, to begin with, so you're unlikely to see a good ROI right away.
You'll want to see who reacts to your advertising the best. I recommend avoiding that path entirely since doing so on a much more promising level would necessitate having a domain, host, and landing page with some ad tracking installed all of which would require you to have a domain, host, and landing page at the moment.
To begin with, I don't see many reasons to send any personal business traffic to Fiverr.
Just keep in mind that if you go the path of building your own website, you will have a lot more flexibility, but if you have no experience, you will have to learn a lot about keyword research, search engine ranking, and a lot of other things, so I don't suggest it unless you already have some.
Conclusion
On Fiverr, you don't generate good sales by executing just one concept. Instead, it's a mix of techniques, the majority of which are detailed on this page.
It doesn't imply that following every piece of advice you may discover is the only way to succeed on Fiverr.
It's all about combining as many concepts as possible, from the simplest to the most complicated.
The more you do, the better your chances are of succeeding.
I hope the suggestions in this post will be useful to you in some manner, whether you are a total novice or someone who has some expertise with the platform.